Current Staff
James Abbott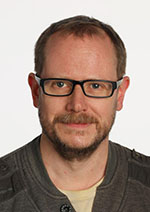 Position:
Senior Lecturer in Bioinformatics (Teaching and Scholarship)
Data Analysis Group Manager
Email:
j.abbott@dundee.ac.uk
Publications:
Google Scholar
James is the manager of the Data Analysis Group, and splits his time between this role and a teaching position within the D'Arcy Thompson Unit. He graduated from the University of Luton with a BSc (Hons) in Biology and Biotechnology, before joining Claire Halpin's lab at the University of Dundee to undertake a PhD in Plant Molecular Biology. A move to Zeneca Agrochemicals/Syngenta following completion of his PhD in 1999 also saw a change of direction into the emerging field of Bioinformatics. In 2002 James joined the newly-established Bioinformatics Support Service at Imperial College London, where his role developed to specialise in genomic analysis such as de-novo genome assembly and annotation, variant finding and metagenomics. James also maintained the bioinformatics computational infrastructure at Imperial in his spare time.
Marek Gierlinski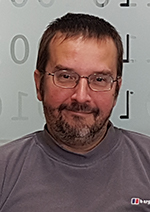 | | |
| --- | --- |
| Position: | Bioinformatician |
| Email: | m.gierlinski@dundee.ac.uk |
| Publications: | Google Scholar |
Marek is a member of the Data Analysis Group (DAG). He was originally supported by funding from the Centre for Gene Regulation and Expression as part of our joint venture to carry out innovative data analysis for high data content/high-throughput techniques such as proteomics mass-spectrometry and next generation DNA sequencing.
Marek was born and educated in Poland. He graduated from the Jagiellonian University in Krakow and completed his PhD in astrophysics at N. Copernicus Centre in Warsaw. He moved to The University of Durham in 2000 as a postdoc and stayed there until 2009 in a succession of research and teaching positions. His main interest there was weird astrophysical objects: black holes and neutron stars. 2009 marked a dramatic change in his career: switching to Bioinformatics. One huge step for a man!
In 2016, Marek's book 'Understanding Statistical Error: A Primer for Biologists' was published. This is based upon his Error Analysis lecture series and explores the concept of error and statistical analysis in biological analysis.
Peter Thorpe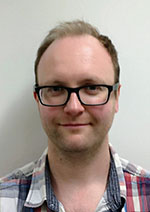 | | |
| --- | --- |
| Position: | Research Data Analyst/Bioinformatician |
| Email: | pthorpe001@dundee.ac.uk |
| Publications: | ResearchGate Profile |
Peter's undergraduate degree was Biotechnology at the University of Nottingham (2001 - 2005). He then worked for R5 Pharmaceuticals and then ran an NMR service at BioCity Nottingham. 2009 - 2013 Peter was a PhD student at the University of Leeds and SCRI which involved both wet and dry lab work in the field of nematode genomics. 2013 – 2018 Peter was employed as a Post Doc at the James Hutton Institute conducting both lab and computational research in aphid genomics (Bos Lab) and Phytophthora metagenomic identification (Cooke lab). 2018 – 2023 Peter was the core Bioinformatician at the University of St Andrews where he collaborated on a wide range of projects in both Medicine and the School of Biology, ran training courses, lectured and looked after the HPC for the Bioinformatics community.
Peter also moonlights as a musician, here is a chilled album he released during COVID, and this one which is far less chilled.
Former Members
| | | |
| --- | --- | --- |
| Dr. Christian (Chris) Cole | 2006-2017 | Chris was a founding member of the DAG, working primarily on a Wellcome Trust funded collaboration with Irwin McLean from 2011-2014. Chris was DAG co-ordinator from 2016, responsible for day-to-day running of the DAG. |
| Dr. Nick Schurch | 2009-2012 | Nick joined the DAG supported by funding from the Scottish Universities Life Sciences Alliance (SULSA) as part of our venture to carry out innovative data analysis for high data content/high-throughput techniques such as proteomics mass-spectrometry and next-generation DNA sequencing |
| Dr. Pieta Schofield | 2009-2016 | Pieta was a member of the DAG for 7 years, supported by funding from the Centre for Gene Regulation and Expression as part of our joint venture to carry out innovative data analysis for high data content/high-throughput techniques such as proteomics mass spectrometry and next generation DNA sequencing. |
| Manikhandan Mudliar (Mani) | 2011-2012 | Mani was a member of the DAG after working at the Translational Medicine Research Collaboration (TMRC), Dundee as a bioinformatics analyst, before moving on to carry out a PhD at the University of Glasgow. |