Current Staff
James Abbott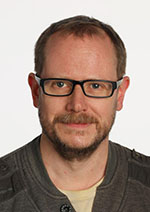 | | |
| --- | --- |
| Position: | Data Analysis Group Manager |
| Email: | j.abbott@dundee.ac.uk |
| Phone: | x81941 |
| Publications: | Google Scholar |
James is the manager of the Data Analysis Group. He graduated from the University of Luton with a BSc (Hons) in Biology and Biotechnology, before joining Claire Halpin's lab at the University of Dundee to undertake a PhD in Plant Molecular Biology. A move to Zeneca Agrochemicals/Syngenta following completion of his PhD in 1999 also saw a change of direction into the emerging field of Bioinformatics. In 2002 James joined the newly-established Bioinformatics Support Service at Imperial College London, where his role developed to specialise in genomic analysis such as de-novo genome assembly and annotation, variant finding and metagenomics. James also maintained the bioinformatics computational infrastructure at Imperial in his spare time.
Marek Gierlinski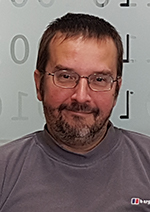 | | |
| --- | --- |
| Position: | Bioinformatician |
| Email: | m.gierlinski@dundee.ac.uk |
| Phone: | x86427 |
| Publications: | Google Scholar |
Marek is a member of the Data Analysis Group (DAG). He was originally supported by funding from the Centre for Gene Regulation and Expression as part of our joint venture to carry out innovative data analysis for high data content/high-throughput techniques such as proteomics mass-spectrometry and next generation DNA sequencing.
Marek was born and educated in Poland. He graduated from the Jagiellonian University in Krakow and completed his PhD in astrophysics at N. Copernicus Centre in Warsaw. He moved to The University of Durham in 2000 as a postdoc and stayed there until 2009 in a succession of research and teaching positions. His main interest there was weird astrophysical objects: black holes and neutron stars. 2009 marked a dramatic change in his career: switching to Bioinformatics. One huge step for a man!
In 2016, Marek's book 'Understanding Statistical Error: A Primer for Biologists' was published. This is based upon his Error Analysis lecture series and explores the concept of error and statistical analysis in biological analysis.
Affiliated Staff
William Nicholson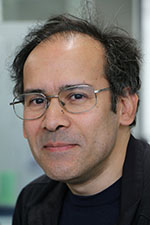 | | |
| --- | --- |
| Position: | Post Doctoral Research Associate - Bioinformatics |
| Email: | w.y.nicholson@dundee.ac.uk |
| Phone: | x88450 |
| Publications: | Google Scholar |
William is a member of Sara Brown's group in the Division of Molecular and Clinical Medicine in the School of Medicine and also an affiliate member of the Data Analysis Group (DAG). He currently works primarily on bioinformatics data analysis on the project in Sara Brown's group to investigate the mechanisms of eczema and skin inflammation.
He graduated from Edinburgh University with a BSc(Hons) in Biochemistry and did a PhD in Biochemistry and Applied Molecular Biology on the structure of photosystem II in Bob Ford's lab at UMIST (which has subsequently been fully absorbed into Manchester University). During the PhD and in subsequent postdoctoral positions he worked on image processing of single particle electron microscopy and electron crystallographic data. The postdoctoral positions were at Glasgow University, UC at Berkeley, Leeds University, Oxford University and Warwick University. While at Leeds University, he completed a part-time MSc in Advanced Computer Science (including a project on multiple alignment of non-coding RNA sequences, primarily rRNA and tRNA) with Manchester University. The postdoctoral positions at Warwick University involved bioinformatics projects with genomic data from plants (the crops sorghum and barley, including some ancient DNA data) and later from bacteria.
Former Members
| | | |
| --- | --- | --- |
| Dr. Christian (Chris) Cole | 2006-2017 | Chris was a founding member of the DAG, working primarily on a Wellcome Trust funded collaboration with Irwin McLean from 2011-2014. Chris was DAG co-ordinator from 2016, responsible for day-to-day running of the DAG. |
| Dr. Nick Schurch | 2009-2012 | Nick joined the DAG supported by funding from the Scottish Universities Life Sciences Alliance (SULSA) as part of our venture to carry out innovative data analysis for high data content/high-throughput techniques such as proteomics mass-spectrometry and next-generation DNA sequencing |
| Dr. Pieta Schofield | 2009-2016 | Pieta was a member of the DAG for 7 years, supported by funding from the Centre for Gene Regulation and Expression as part of our joint venture to carry out innovative data analysis for high data content/high-throughput techniques such as proteomics mass spectrometry and next generation DNA sequencing. |
| Manikhandan Mudliar (Mani) | 2011-2012 | Mani was a member of the DAG after working at the Translational Medicine Research Collaboration (TMRC), Dundee as a bioinformatics analyst, before moving on to carry out a PhD at the University of Glasgow. |